D-EITI Special Representative: Oliver Wittke
Oliver Wittke is Parliamentary State Secretary at the German Federal Ministry for Economic Affairs and Energy (BMWi). The Federal Government appointed him D-EITI Special Representative in April 2018. He supervises the implementation of the D-EITI. The standard specifies his tasks and competencies thus:
"The appointee must have the confidence of all stakeholders, the authority and the freedom to coordinate EITI actions across relevant ministries and agencies and must be able to mobilise resources for the EITI implementation."
The Multi-Stakeholder- Group consists of representatives from government, business and civil society. They are appointed by the Federal Government for a period of three to four years. The main task of the MSG is to control and monitor the implementation of the D-EITI; it also bears the responsibility for work plans and progress reports.
MSG Rules of Procedure (PDF)
Minutes and meeting documentation of the MSG (PDF)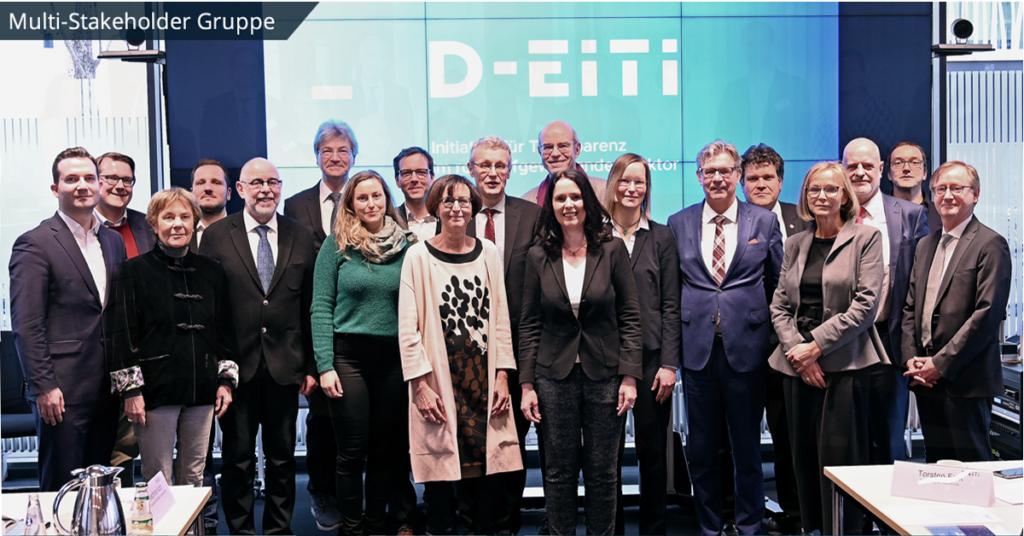 Representatives of the government

Dr. Winfried HorstmannFederal Ministry for Economic Affairs and Energy (Deputy: Andrea Jünemann, Federal Ministry for Economic Affairs and Energy)
Ludgar WockenFederal Ministry of Finance (Deputy: Dr. Daniel Fehling, Federal Ministry of Finance)
Chief Inspector of Mines Friedrich Wilhelm WagnerBund-Länder-Ausschuss Bergbau (LAB, Federal and State Committee for Mining) (Deputy: Helmuth von Nicolai, Ministry of Energy, Infrastructure and Digitalization, Mecklenburg-Vorpommern)
Norbert ConradMinistry for Economic Affairs, Labour, Transport and Digitalisation, Lower Saxony (Deputy: Jörg Bodenstein, Ministry for Environment, Energy and Nature Conservation, Thuringia)
Torsten FalkMinistry of Finance, Hesse (Deputy: Bettina Kläsener, Ministry of Finance, Hamburg)

Government Spokesperson

N.N.Federal Ministry for Economic Affairs and Energy
Financial Support for Civil Society
The D-EITI multi-stakeholder process is based on a representative involvement of all stakeholders of the German resource sector and on an active, equal and informed participation of all organisations involved. With a view to enable this participation and to guarantee for a successful implementation of the EITI in Germany, civil society is receiving financial support from the government in order to build up necessary resources and implement activities. In 2018 the following organisations received a grant of 100.000 € in total (2015: 146.000 €; 2016: 120.000 €; 2017: 90.000 € in total):

Forum Ökologisch-Soziale Marktwirtschaft e.V., Forum Umwelt und Entwicklung, Open Knowledge Foundation Deutschland e.V. and Transparency International Deutschland e.V.
This grant enables the organisations to inform their respective stakeholders on the status of EITI implementation in Germany and to build up a differentiated opinion on future implementation. Furthermore the grant provides the opportunity to have an intensive preparation and follow-up of the issues discussed in the MSG by building up expertise on these issues.
DAS KÖNNTE SIE AUCH INTERESSIEREN
Was ist EITI?
Participating countries
Media library
Find reports and working papers on (D-)EITI